Lack of Affordable Housing for Reno July 19, 2019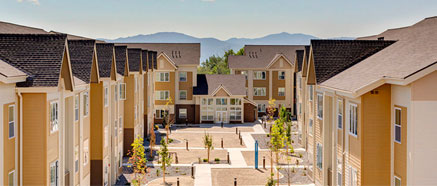 Tesla, Switch, Apple, and many other large businesses have relocated or expanded to Reno. This is fantastic news for the growing northern Nevada economy, but it does do a wonder on housing. With so many people relocating to the area, where will they all live and can they afford it? This has been top of mind for decision makers and economic development leaders in our region.
"[A]s we look at the many challenges we face as a region, there is one challenge that could derail our economic success and impact on the quality of life for not only our new residents but for our existing residents as well: our growing shortage of housing, especially affordable housing," said Mike Kazmierski, president and CEO of the Economic Development Authority of Western Nevada in a recent editorial published by the Reno Gazette-Journal.
Reno and its smaller surrounding cities are dealing with a housing crisis. There is not enough supply for the demand. As a result, homeowners and renters are facing an inflation of housing costs.
"Lack of supply — not growth — is the problem: Some say we are growing too fast, so let's stop the growth," said Kazmierski. "While our population growth is robust, it is not unusual for our region. In fact, according to the EPIC Report projections, we will continue to grow at essentially the same rate over the next 20 years as we have over the past 20."
Looking at the issue of affordable housing, the answer seems clear—we need more housing in the area.
"We're just not keeping up with the production of housing (at half the rate of pre-recession construction), and every housing project that gets delayed or every additional fee or requirement that gets tacked on just drives up the housing prices and makes things worse," said Kazmierski.
StoneGate is a housing development planned for Reno. Although it cannot solve the housing dilemma on its own, it can start things in the right direction by adding extra housing where it is desperately needed.
Related Articles
A national study just ranked Reno as the second-best city in the United States for buying a family home. Wait, what? That's right, the Biggest Little City is No. 2 among the top 100 metros in the nation for families looking to buy a house, according to financial technology firm SmartAsset. The ranking is a big jump for Reno, which placed 19th in 2018 — the first year that SmartAsset did the study. Only Fremont in California ranked higher than Reno.
StoneGate Reno is taking many crucial details into account while planning the master planned community for Northern Nevada, like water and traffic. StoneGate Reno is also dedicated to preserving the natural beauty of the historic Heinz Ranch by investing in recreational activities for the new residents.
Reno is experiencing an influx of residents. With that comes more people needing homes, more people filling jobs, and more children filling schools. The area of North Valley off North Virginia Street has seen some growth and the schools are filling up quickly.